Children all learn at different speeds, in different ways and with different attitudes. Some children might be enthusiastic book worms, others might let out a little huff and a grumble at the thought of even turning the page to read the next sentence!
Whatever their ability or however much they enjoy reading, giving children rewards is an absolute must for every single beginner reader to boost their self-esteem and encourage them to want to read even more.
So in true Roald Dahl Day spirit, I've got something that will do the trick!
This year's global celebration is even more gloriumptious than ever because it marks the 100th birthday of one of the world's best loved storytellers. To make it even bigger and better than before, I've made some very special golden tickets for you to give to your very special reader as a reward for all their hard work.
Simply print them out, cut them up and put them in a box or a bag.  When they have reached a particular milestone of reading their school book a certain number of times, they can pick one of the tickets at random and enjoy their mystery prize! Make the number achievable – I would recommend 10 reads for them to work towards. That way the prizes aren't too frequent to lose their value, or too far in the future that your child loses hope and motivation.
Here are a few ideas of how to keep track of their 10 reads…
Write in their school reading diary 10 times (this is also a great way to let their teacher know how hard they're working at home)
Collect 10 marbles/beads in a jar.
Collect 10 stickers on a picture they have drawn.
Click here to download your FREE printable golden tickets now.
Have a look below to see a couple of examples…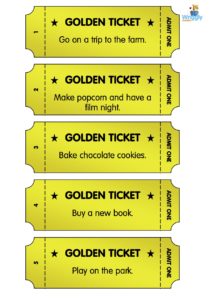 You might have lots of other exciting prizes up your sleeve, so leave a comment in the box underneath to let me know one other prize idea. I'll make some more tickets with my top 5 suggestions!